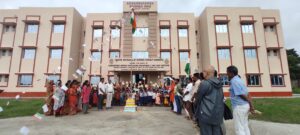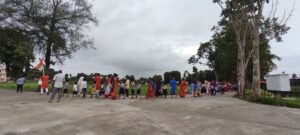 Celebration of the 76th Independence Day in the glorious 75th Year of India's Independence at Sasya Shyamala Krishi Vigyan Kendra, RKMVERI, Arapanch, Sonarpur, South 24 Parganas, Kolkata – 700 150. A colourful rally was organized from Ashrama Bari to our KVK campus with the students of Gadadhar Abhyuday Prakalpa (GAP) and Vivekananda Child Development Programme (VCDP) of Ramakrishna Mission Ashrama, Narendrapur (Arapanch Project), their guardians, staff members of the KVK and the labourers working in the Krishi Vigyan Kendra. The great leaders and the warriors who led and fought for the country's Independence, from British rule spanning over about 200 years, suffered from inhuman torture, many of them sacrificed their lives were remembered. The National Flag was hoisted in front of the newly built Farmers' Hostel of the Krishi Vigyan Kendra.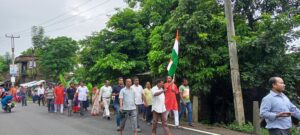 A programme was separately organized in the project villages involving all the 200 beneficiaries (all belonging to Scheduled Caste community) of the SEED (Science for Equity, Empowerment and Development) project funded by Department of Science and Technology, Govt of India for the development of alternate livelihood opportunities through Ornamental and Indigenous Fish Culture in the Wetland Areas of Sonarpur, South 24 Parganas, West Bengal.
Bonde Mataram !!! Bonde Bharatam !!!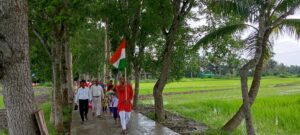 1483total visits,1visits today