The Farmers' Hostel of Sasya Shyamala Krishi Vigyan Kendra, RKMVERI has been inaugurated today (26th July, 2022), the auspicious day of Swami Ramakrishnanandaji's (one of the direct monastic disciple of Ramakrishna Paramhansa Dev) sacred Janmatithi.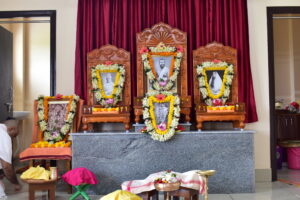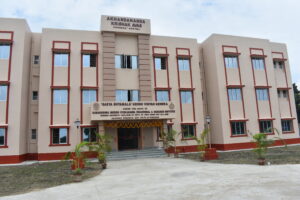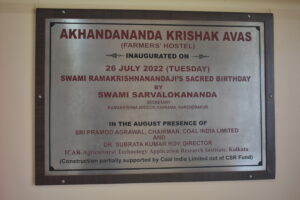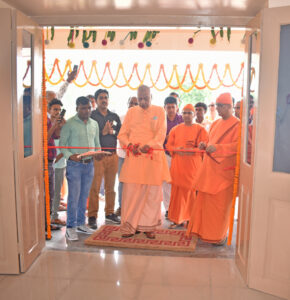 The hostel has been named as 'Akhandananda Krishak Avas'. Swami Akhandanandaji Maharaj was also the direct monastic disciple of Ramakrishna Paramhansa Dev and the 3rd President of Ramakrishna Math and Mission. He was the first monk of Ramakrishna order who gave shape to the cherished desire of Swami Vivekananda to start rural development work and the founder of the first Branch Centre of Ramakrishna Mission at Sargachhi, Murshidabad in 1897. Now the second KVK under the aegis of RKMVERI has been established at this Ashrama as the additional KVK of Murshidabad.
The Farmers' Hostel was inaugurated by Swami Sarvalokanandaji Maharaj, Secretary of Narendrapur Ramakrishna Mission Ashrama in the august presence of Swami Atmapriyanandaji Maharaj, Revered Pro-Chancellor of RKMVERI, Swami Shivapurnanandaji Mj, Asstt Admin. Head, IRDM F/c and Vice Chairman, SSKVK, Dr. S. K. Roy, Director, ICAR-ATARI, Kolkata, Dr. S. K. Ray, Principal Scientist and Head, ICAR-NBSS&LUP Kolkata Centre, Dr. Partha Sarathi Banerjee, Principal Scientist and Head, ICAR-IVRI ERS, Kolkata, faculties and staff of IRDM F/c and others through worshipping Thakur, Maa, Swamiji, Swami Ramakrishnananda and Swami Akhandanandaji Maharaj and chanting.
The hostel has a capacity to accommodate total 88 inmate farmers/officers, a common dining hall of 66 sitting arrangements, a special dining hall of 20 sitting arrangements, a dormitory for 8 persons, one waiting room and one prayer hall for 80 persons. It has been constructed with design and supervision of Swami Vitakamanandaji Mj. (Chinmoy Mj) with an expenditure of about Rs.3.00 crores under financial support of ICAR, Coal India Ltd. and RKMVERI.

2495total visits,1visits today